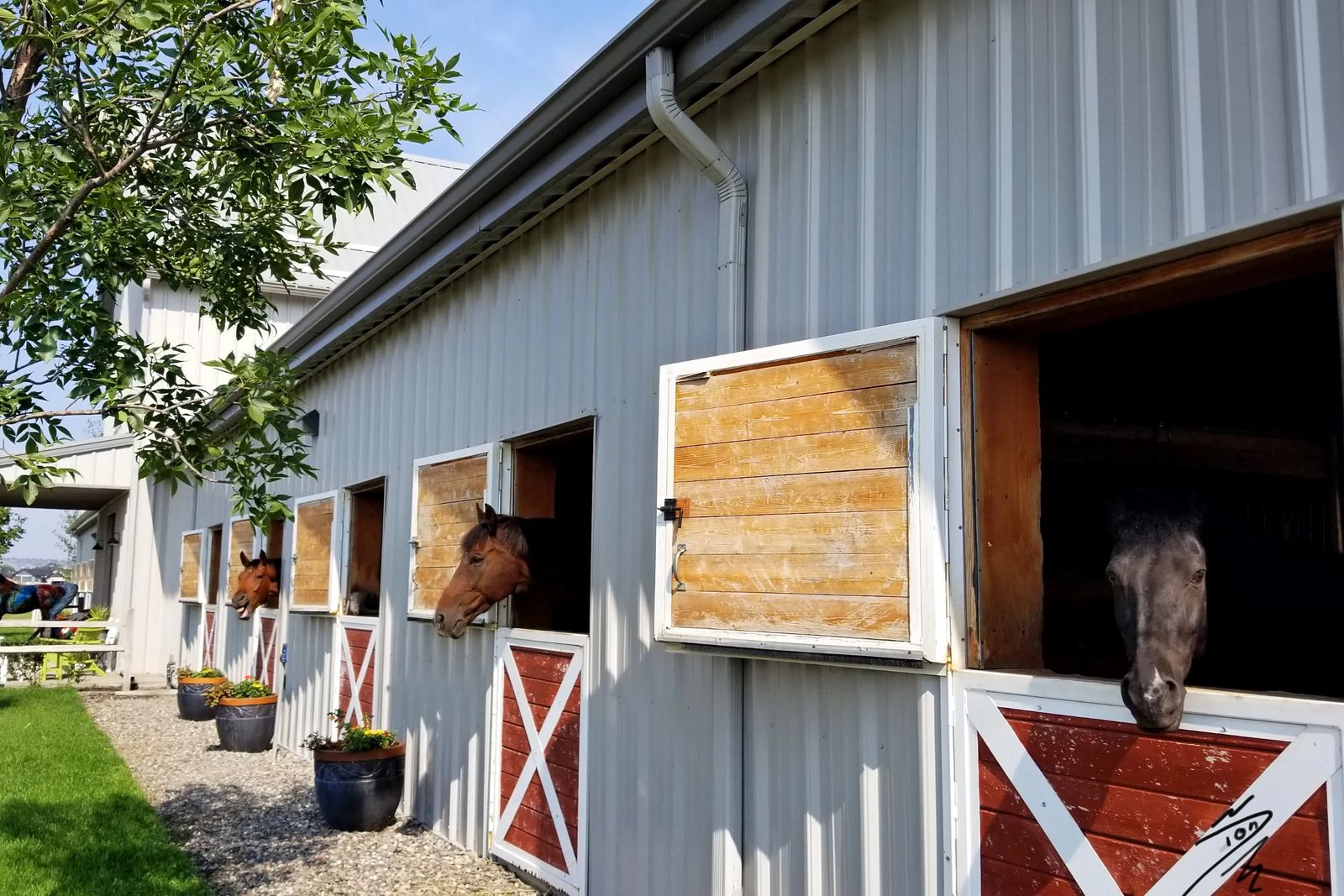 Boarding at White Aspen Ranch in Billings, MT
The health and happiness of your horse is a top priority at White Aspen Ranch. We offer high quality boarding packages to all of our clients. All boarding packages include a customized feed program, individualized attention for your horse, daily turn out and so much more.
Interior Boarding Stalls
Our spacious interior boarding stalls are 12′ x 12′ and include automatic water and "Comfort Stall" flooring to lessen the stress on the horse's legs. The walls are made from wood slats and iron tubing, and most stalls include a Dutch door for outside exposure. Stalls are cleaned at least once a day. Fresh air and exercise are an important aspect in keeping horses happy and healthy so they are turned out to pasture every day as weather permits. For mares with colts, we also offer a 24' x 12' stall area with a 24 x 24 run. So the mares can enjoy their babies in comfort. Barn and riding arena are heated in the colder winter months.
Exterior Boarding Stalls
Our exterior boarding stalls are 12′ x 24′ and include automatic water. These large stalls are enclosed with steel panels to help protect the horses from the elements. We clean each stall and change the wood shaving bedding every day to help keep the horses' living environment sanitary. To insure that they are comfortable, all horses are blanketed as needed. When weather permits, each horse is turned out to pasture every day for fresh air and exercise.
Feeding
Maintaining a healthy diet is vital and we strive to make sure each horse is given the best quality feed. All of our horses are fed twice daily a healthy diet that includes alfalfa, alfalfa/grass mixture and/or orchard grass inside their stalls. We also turn them out to pasture so they can enjoy grazing on native grasses when weather permits. To maintain the highest quality of our feed, White Aspen Ranch has a covered building for feed storage. All regular feed costs are included in your boarding fees.
Grooming
White Aspen Ranch has a complete grooming area where horses can be washed, brushed, clipped and inspected. Horses are gentle creatures and love attention. Our caring staff members escort each horse to the pasture areas giving them much needed love and attention. Grooming is a special time for owners to bond with their horses so we ask that all owners to be responsible for grooming their own horses.
Health Issues
Rocky Mountain Equine is available on site for any veterinary needs. Appointments can be made by the boarder. We have a number of Farriers available at the barn. Moving horses can be stressful so we do watch for possible health concerns after each move. If we notice anything that is a cause for concern, owners will be notified prior to initiating the services of a veterinarian, or farrier, for explanation and approval. All veterinarian and farrier fees will be billed directly to the owner of the horse.
Tack Storage
Carrying around riding gear isn't convenient for everyone which is why White Aspen Ranch has two tack rooms available for storing your riding gear. These tack rooms are protected by security systems that are monitored by a local security provider.
Trailer Storage
For those who find themselves in need of trailer storage, we also offer an uncovered, outside trailer storage area for clients who board their horses with us. This convenient service is available at a monthly cost.
Fees
Indoor stalls: $650.00 per month
Outdoor stalls (mare Motel): $600.00 per month
Pasture board: $375.00 per month
$60.00/month extra for pasture turn-out
(Fees include stall rental, standard feeding program, general animal care, and tack room storage.)